Greatest Rail Journey's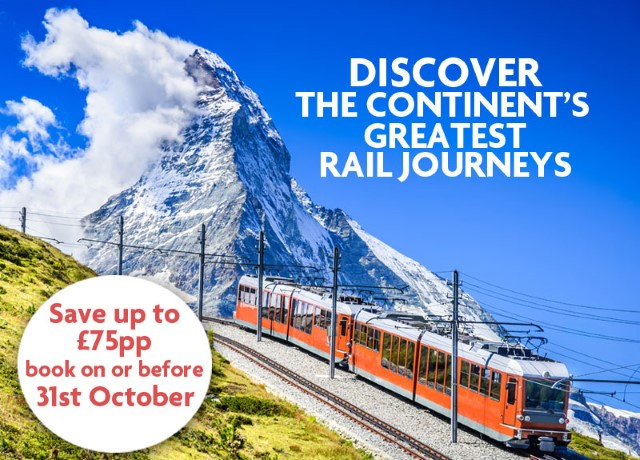 Switzerland | Norway | Germany |
Spain Austria | Czech Republic | Hungary
At Great Rail Journeys, we believe there is no better way to experience the cities, cultures and landscapes of Europe than by rail. From the comfort of your seat you can relax and enjoy the constant panorama of ever-changing scenery as you head towards your destination.
To celebrate Michael Portillo as he embarks on another series of adventures across the continent's rail network, we've compiled a collection of our greatest continental rail journeys, perfect for those wanting to follow in his footsteps or simply experience Europe from a new perspective.
From the mountain railways of Switzerland to El Transcantabrico in northern Spain, our fantastic tours allows you to step back in time to the golden age of travel.
Glacier Express & St Moritz
Dramatic mountain scenery and beautiful lakes provide the setting for this magnificent tour, as we take the iconic Glacier Express through the Swiss Alps. Staying glamorous St Moritz and Zermatt, we enjoy breathtaking views of the Matterhorn.
Spain's Iconic El Transcantabrico
Experience the elegance and style of Spain's oldest tourist train, El Transcantabrico, on its journey from Leon to Santiago de Compostela. Explore the glorious coastline and discover the culture, food and history of northern Spain.
Fjords of Norway
Immerse yourself in the atmospheric cities and idyllic fjords of Norway on a holiday that incorporates a spellbinding Hurtigruten cruise as well as collection of magnificent railway journeys.
Harz Mountains & Rhine Gorge
Discover two of Germany's most picturesque regions on this fantastic two-centre holiday. We explore the half timbered villages and stunning peaks of the Harz Mountains by heritage railway before visiting the stunning Rhine Gorge.
Railways of the Austrian Alps
Discover the beauty of the Austrian Tyrol during this rail holiday based in Seefeld, a historic resort town perfectly placed for exploring the region's mountains, lakes and villages, as well as the local heritage railways.
Grand Imperial Cities
Fascinating imperial cities and high-speed intercity train journeys showcase the turbulent history of Central Europe. Discover what transformed these former Hapsburg and Prussian strongholds into four of Europe's greatest destinations.