Spain Train Holidays 2021/2022
From fiery flamenco and tasty tapas to surrealist art and architecture, there's a little more to Spain than sun-soaked beaches, though there's no denying they're a pretty great part of the country's allure. Discover the best of this crowd-pleasing destination on a holiday that combines fantastic culture and famous landmarks with spectacular scenery, all reached by a comfortable rail journey or convenient flight.
Spain Rail Tours

8 days from £1,145PP
This fabulous Spanish coastal holiday is based in Peñíscola, 'the city in the sea'. Explore Barcelona and Valencia, visit delightful Morella, and enjoy plenty of time to relax on the town's golden sandy beach.

8 days from £875PP
Enjoy this eight-day holiday on the stunning Catalan coast, from your base in relaxing Roses. Cruise to beautiful Cadaqués, explore magnificent Barcelona and charming Figueres, basking in Catalan culture.

10 days from £1,795 per person
The beautiful, unspoilt town of Roses is our base for nine nights on the rugged Costa Brava. Our relaxed itinerary introduces the cultural highlights of the region, including the incredible Cap de Creus National Park, the picturesque fishing village of Cadaqués, Barcelona, Figueres and the Dalí Foundation.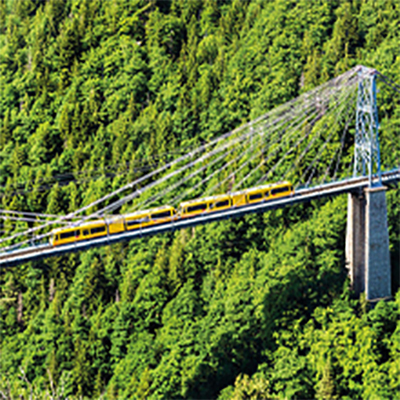 Take unforgettable journeys by train through the Pyrenees as you discover scenic highlights of Spain and France.
8 days from £1,199

12 days from £2,945 per person
Showcasing the rich cultural heritage of Andalucía, this tour takes us from Spain's bustling, fashionable capital city, through the iconic Moorish citadel of Granada's Alhambra, to the elegant city of Seville, via the whitewashed passages of Cordoba's Old Town.

8 days from £1,265 per person
From the heart of cultural Andalucía, explore the very best this stunning destination has to offer, including t0he historic streets of vibrant Seville and the overwhelming beauty of Granada's UNESCO-listed Alhambra.

8 days from £2,645 per person
Uncover the secrets and allure of 4 great Spanish cities, each with their own individual culture and charms. Stay at the remarkable Alhambra Palace Hotel in Granada, sat at the foot of the famous Alhambra itself, attend a dazzling Flamenco show in a furnished cave in the Sacromonte district, and take a horse-drawn carriage ride through Seville.

8 days from £1,895 per person
Uncover the sights of Spanish and French Basque country, enjoying visits to cosmopolitan cities and medieval walled towns, all the while tasting speciality dishes, wines and ciders.
The Magic of Spain
Passion, culture, history and natural beauty. Glorious beaches, mouth-watering tapas, and refreshing sangria are just the tip of the iceberg in Spain. Wherever you decide to go, make sure you book soon to avoid disappointment!
Enjoy a Spanish Sojourn
Head to beautiful Spain where fiery flamenco, tasty tapas and surrealist art await. Explore cities where Moorish and Mediterranean influences collide, wander the halls of the iconic Alhambra, or discover an oasis of calm as you journey by rail through the Núria Valley. In celebration of this crowd-pleasing destination, read on for some of our favourite things about Spain.


Explore the Catalan Coast

Stay in lovely Roses, soaking up gorgeous scenery and enjoying the unique culture of the Catalan coast, an area of authentic Spanish fishing ports and sweeping bays.


Enjoy Andalucía Like a Local

Head to Andalucía and discover a destination that's as unique as it is beautiful. Want to live like a local when you're there? We've got you covered.


Discover the Little Yellow Train

Journey on the Little Yellow Train of the Pyrenees, or 'Le Petit Train Jaune', and admire stunning views as you wind along a route famous for its scenery.

Catalonia & Little Trains of the Pyrenees - Treasures of Andalucia