Prague Train Holidays 2022/2023
Take the train to the Imperial city of Prague, where you're introduced to the 'Golden City' on a guided tour. The Czech capital is pleasantly small and compact yet brimming with fantastic sights. You discover the historic Old Town Square, with its cobblestones and surrounding pastel buildings. The square is a feast for the senses; enjoy the tempting scent of local food wafting from nearby cafés and stalls, perhaps be serenaded by a street musician, and admire the artistic statues and fountains. You also see the 14th-century Charles Bridge, a beautiful bridge that separates the two sides of Prague and dates back to 1357.
Prague Rail Tours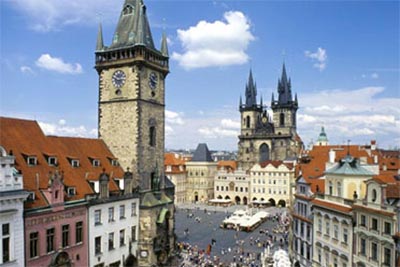 10 days from £1,365PP
Get to know some of Europe's finest cities on this culture-rich holiday. Explore Vienna, uncovering its grand architecture and rich artistic heritage. Stroll through Prague's UNESCO-listed centre, a labyrinth of cobbled lanes, ancient courtyards, and spectacular Gothic buildings. And, visit enigmatic Berlin, discovering the impressive architecture and unique history of the once-divided city.

11 days from £1,299 per person
Explore Berlin, Prague, Vienna and Budapest, discovering the region's rich heritage of art, history and culture while savouring its world-class castles, palaces and museums.
Prague Tours
Sip Beer in Prague
A city famous for its home-brewed beers, head to the Prague for a well-earned pilsner or lager in Prague.