Winter and Festive Season By Rail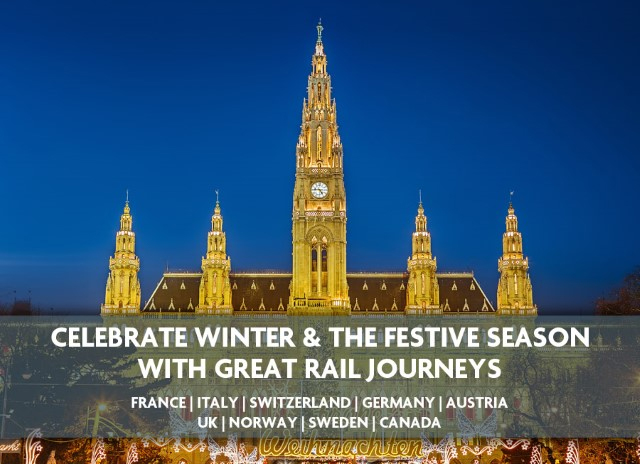 Winter and Festive Season with Rail Discoveries
Winter is a time when your favourite cities, landscapes and countries are transformed. With the colder temperatures come heartier foods, Christmas decorations, strong local traditions and, at times, a blanket of crisp white snow. Whether you wish to travel to towns decked with festive lights and explore bustling markets or escape to serene landscapes and take in the charms of the countryside, we have a tour for you.
Experience the glittering markets of Bavaria, step aboard the Glacier Express at Christmas or New Year or travel across the Arctic Circle. Our extensive range of Winter & Festive holidays provide ample opportunity to sample the delights of the season.
EARLY BOOKING OFFER
Save up to £75 per person on 2017 Europe, UK & Ireland holidays when you book on or before 31st October 2016

LOW DEPOSIT OFFER
Secure your 2017 Italian Holiday for as little as £50 per person when you book on or before 9th December 2016
Florentine Christmas
Discover the delights of Florence in winter on a festive city break. Take in the 'Cradel of the Renaissance' in the midst of the Christmas season, exploring charming Nativity scenes and enjoying the option to attend Midnight Mass in Florence's stunning cathedral.
Hanover, Hamelin & Bremen Christmas Markets
Discover some of Germany's best-loved 'faitytale' cities as they are illuminated for advent. Colourful guided tours uncover the Brothers Grimm fairytales along with fabulous Christmas Markets.
Bavarian Christmas Markets
Sample the sights and smells of three Bavarian Christmas Markets by train. Regensburg, Rothenburg and, arguably Germany's most famous Christmas Market, Nuremberg.
Swiss Christmas and Italian New Year
Embark on a magical winter adventure over the festive season, spending Christmas amidst the snows of Switzerland and New Year beside the sparkling waters of Lake Como. Make unforgettable memories in Europe, with a charming sleigh ride and two iconic rail journeys transporting you into the heart of Italy and Switzerland in winter.
12 days from £2,445 per person
The Northern Lights & Lapland
On this remarkable adventure we explore Norway and Swedish lapland, journeying north far into the Arctic Circle where we seek out the magical Northern lights, all whilst travelling on some of Scandinavia's most scenic railways.
11 days from £2,395 per person
The Canadian in Winter
On this intrepid cross-continental adventure by train, we spend three unforgettable nights in fantastic Toronto, visit the incredible Niagara Falls and travel through the spectacular frosted scenery of the Canadian Rockies.
11 days from £2,595 per person